Which specialties and universities are the most popular among foreign students, how many invitations for study have been registered, from which countries the most students come to study at Ukrainian universities – all this was discussed during the online presentation of the state enterprise "Ukrainian State Center for International Education" of the Ministry of Science and Education of Ukraine, today, December 21st, 2020.
"We are very pleased to note the rapid growth in the number of foreign students since 2011. In 2019, we reached a historic high – 80,470 people. This is the result of our joint work with you. And, I hope, by 2025 we will be able to reach the figure of more than 100 thousand "– said the director of the Center Olena Shapovalova.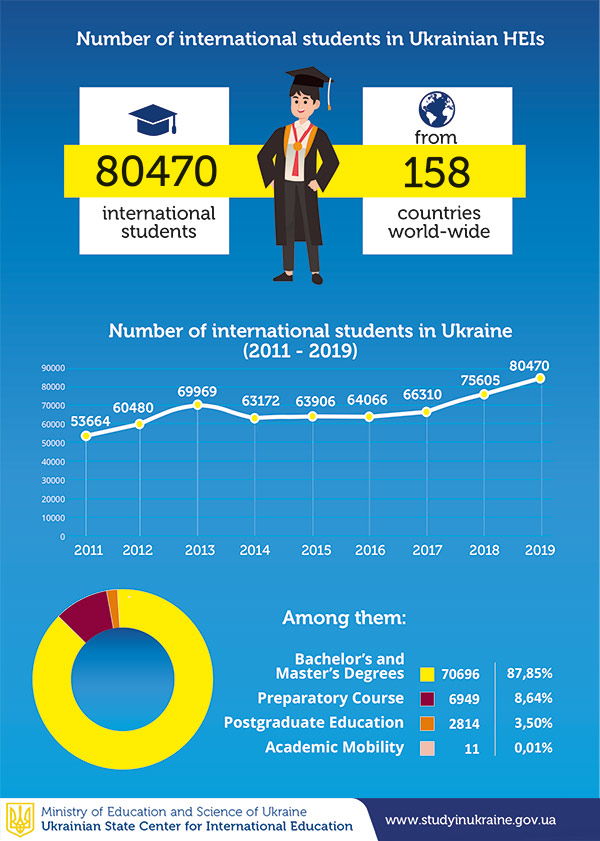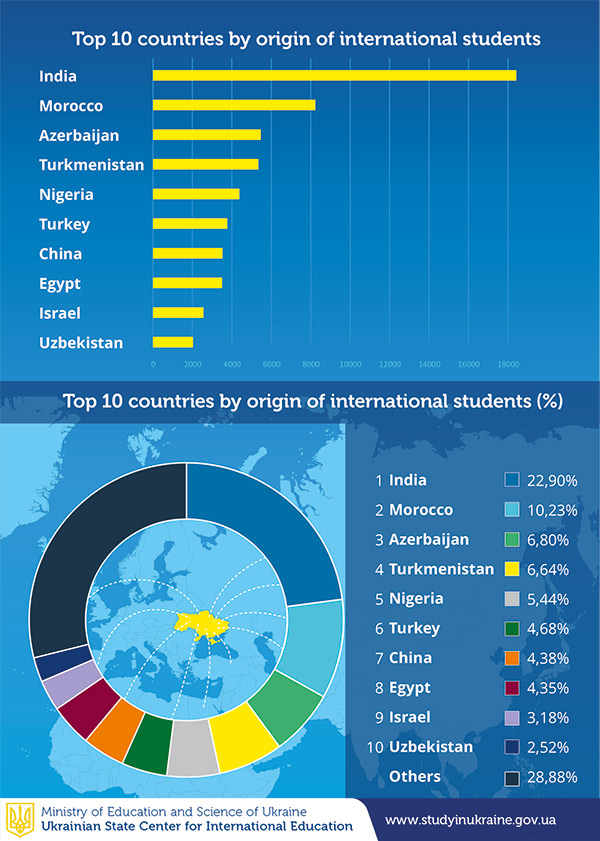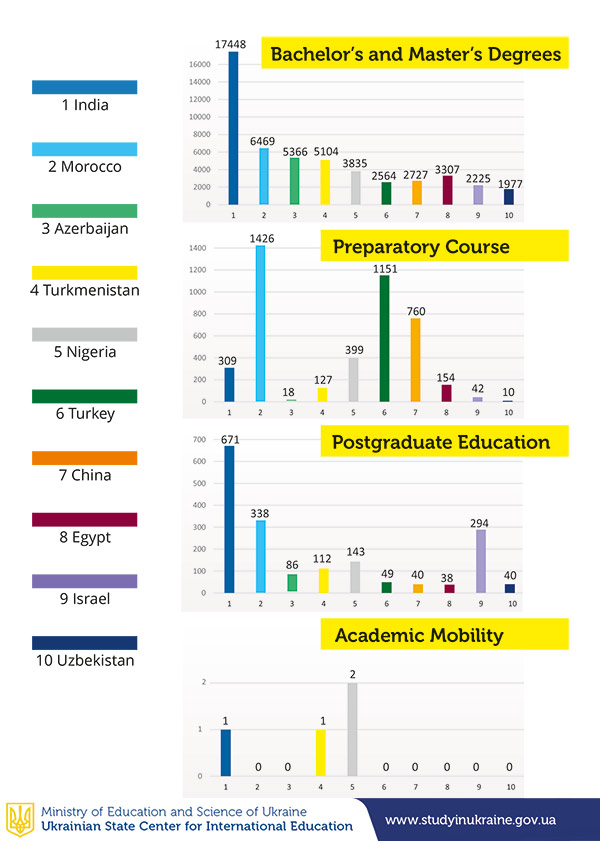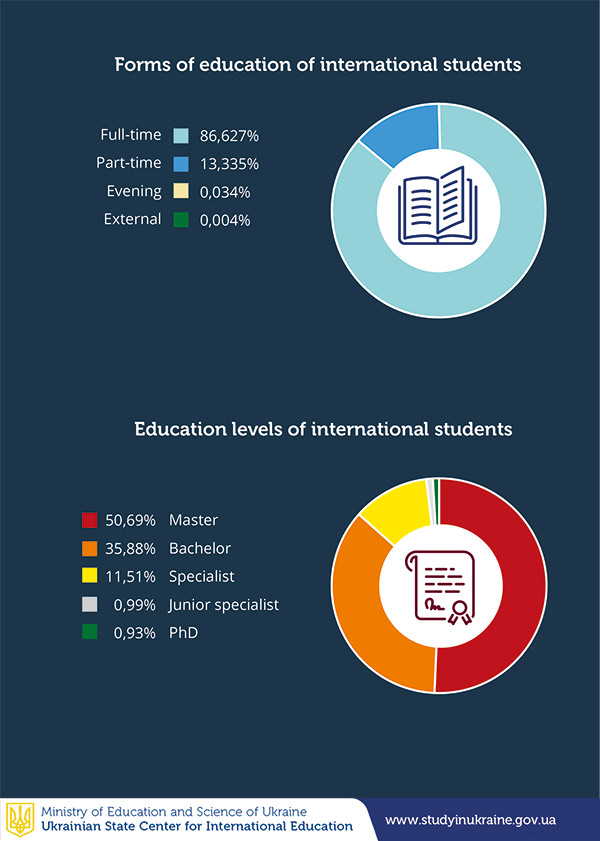 Most students come from countries like India, Morocco, Azerbaijan, Turkmenistan, Nigeria, Turkey, China, Egypt, Israel, Uzbekistan.
The large number of students from India and Turkmenistan, as Olena Shapovalova explains, is due to the ease of receiving a visa.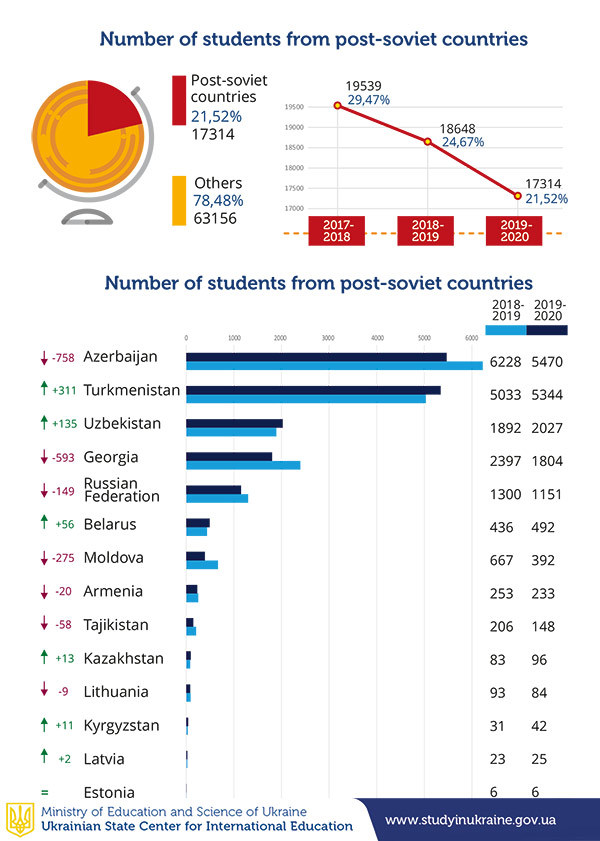 Among the specialties chosen by foreign students, the most popular ones are medical – almost 50%:
1. Medicine (32,36%)
2. Medical Practice (7,72%)
3. Dentistry (6,33%)
4. Management (4,36%)
5. Pharmacy, Industrial Pharmacy (3,10%)
6. Law (2,97%)
7. Architecture and Construction (2,96%)
8. Secondary Education (2,27%)
9. Finance, Banking and Insurance (1,95%)
10. Economics (1,60%)
11. Philology (1,295%)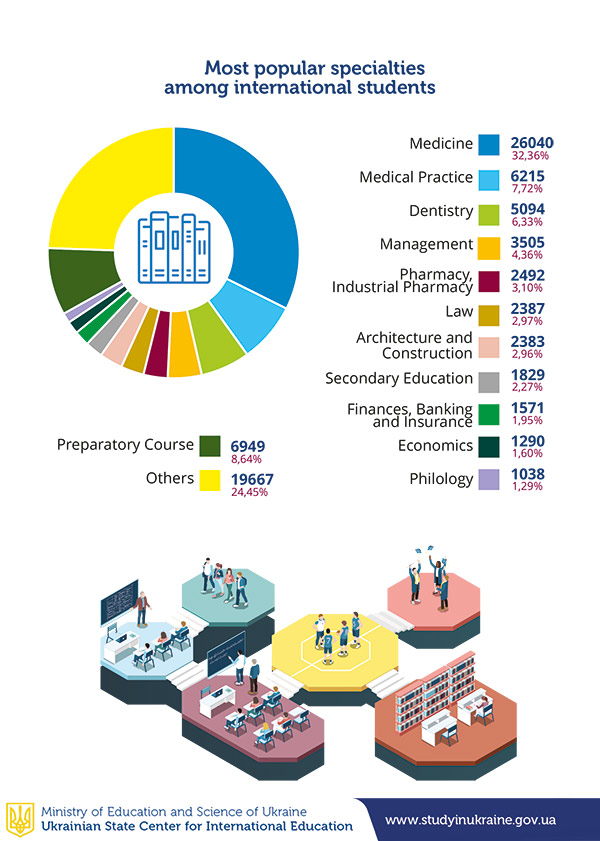 The most popular higher education institutions among foreign students:
1. Kharkiv National Medical University
2. V.N. Karazin Kharkiv National University
3. Odesa National Medical University
4. Bogomolets National Medical University
5. Zaporizhzhia State Medical University
6. National Pirogov Memorial Medical University, Vinnytsia
7. I.Horbachevsky Ternopil State Medical University
8. State Institution "Dnipropetrovsk Medical Academy of the Ministry of Health of Ukraine"
9. HSEE of Ukraine "Bukovinian State Medical University"
10. Taras Shevchenko National University of Kyiv
"What unites these universities is that they have a medical faculty. After all, the most popular specialties among foreign students – which is almost 50% – are medical" – explains Olena Shapovalova.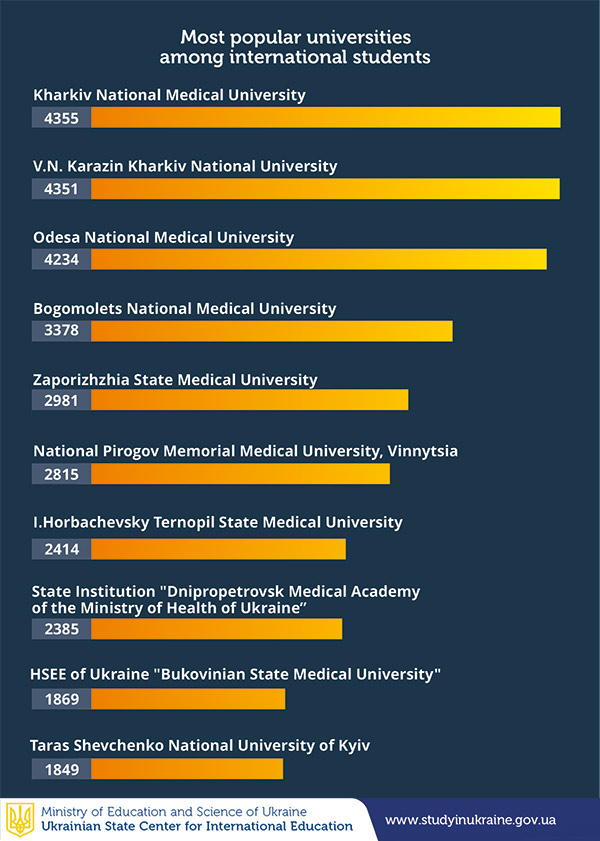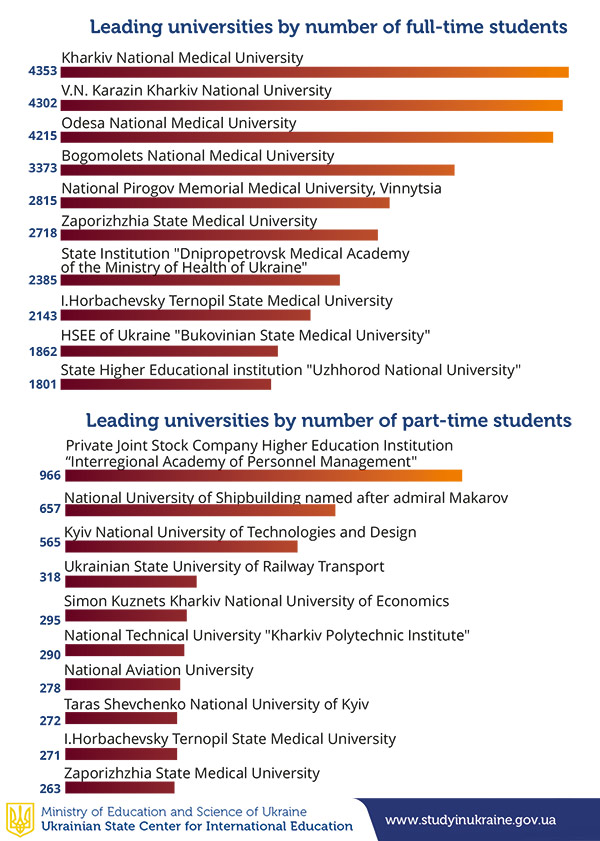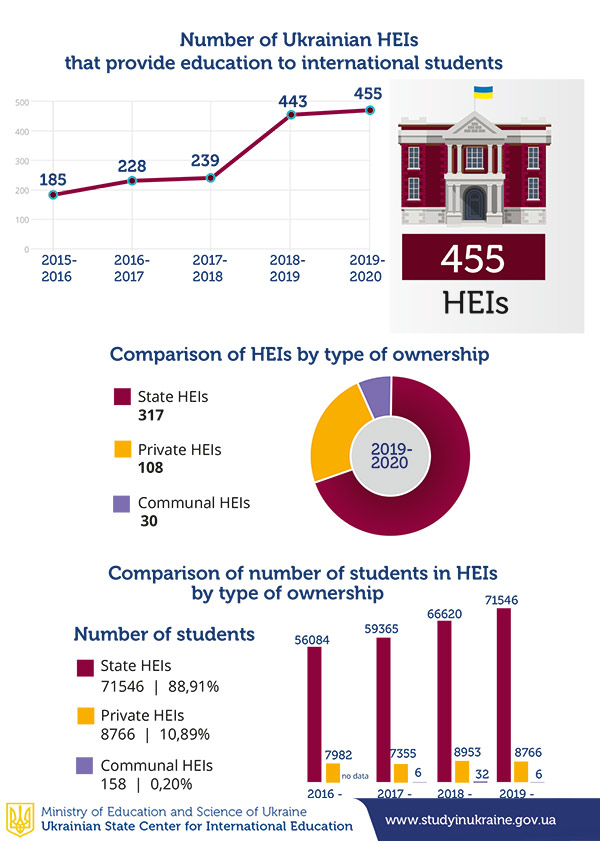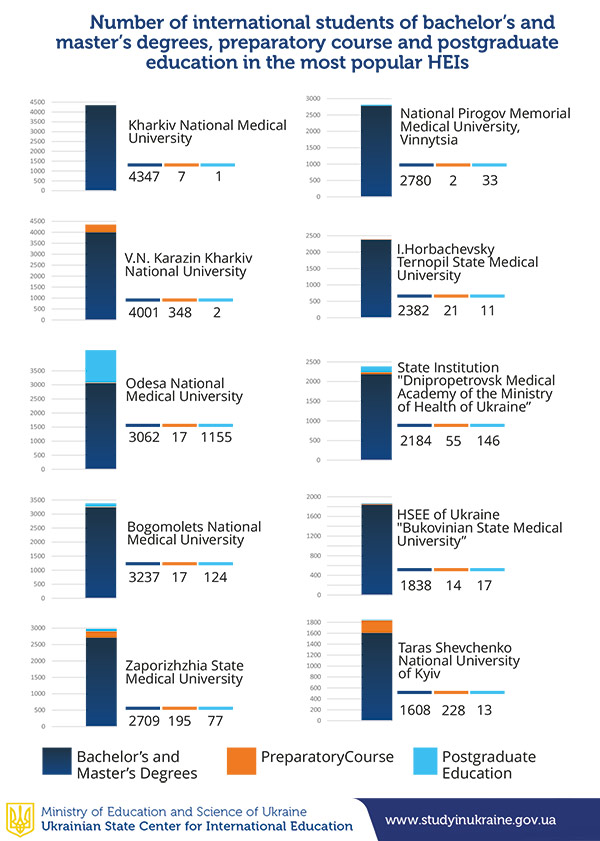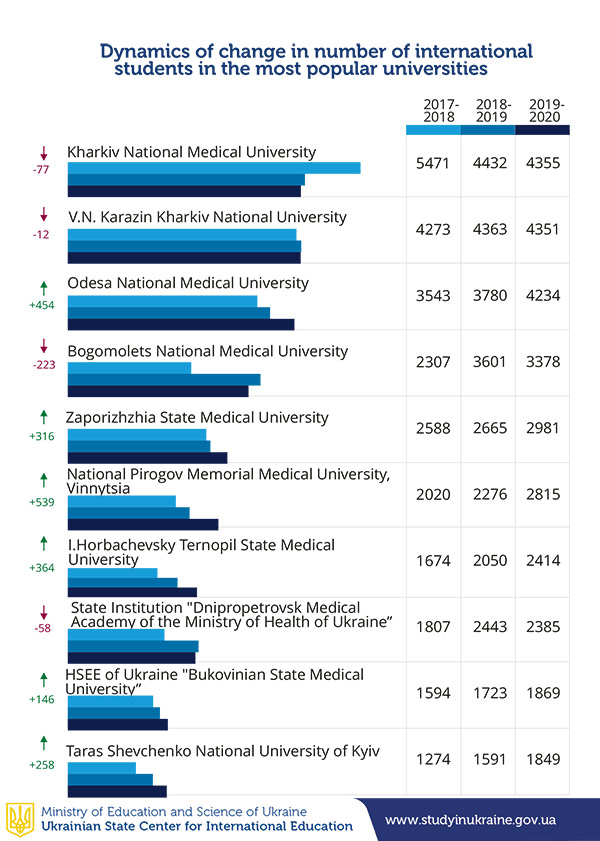 The regions that lead in the number of foreign students are Kharkiv, Kyiv, and Odesa, which is due to the most popular educational institutions being located in them.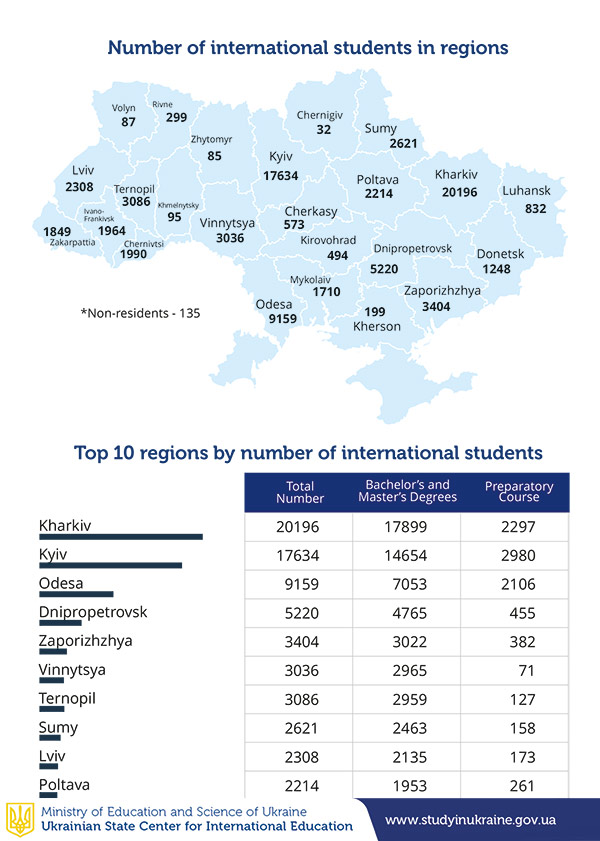 Olena Shapovalova noted the positive growth of the number of invitations for study for foreign applicants. Thus, since 2015, their number has increased almost 2.5 times – from 19,647 to 47,905.
The number of registered invitations for foreign applicants this year as of December 20th, 2020 is 35,148, which is almost 10 thousand less than last year. Olena Shapovalova stressed that the final data for the whole of 2020 will be published in January 2021, as not all universities have yet entered the data of The Unified State Electronic Database in Education and the electronic journal of «Study in Ukraine».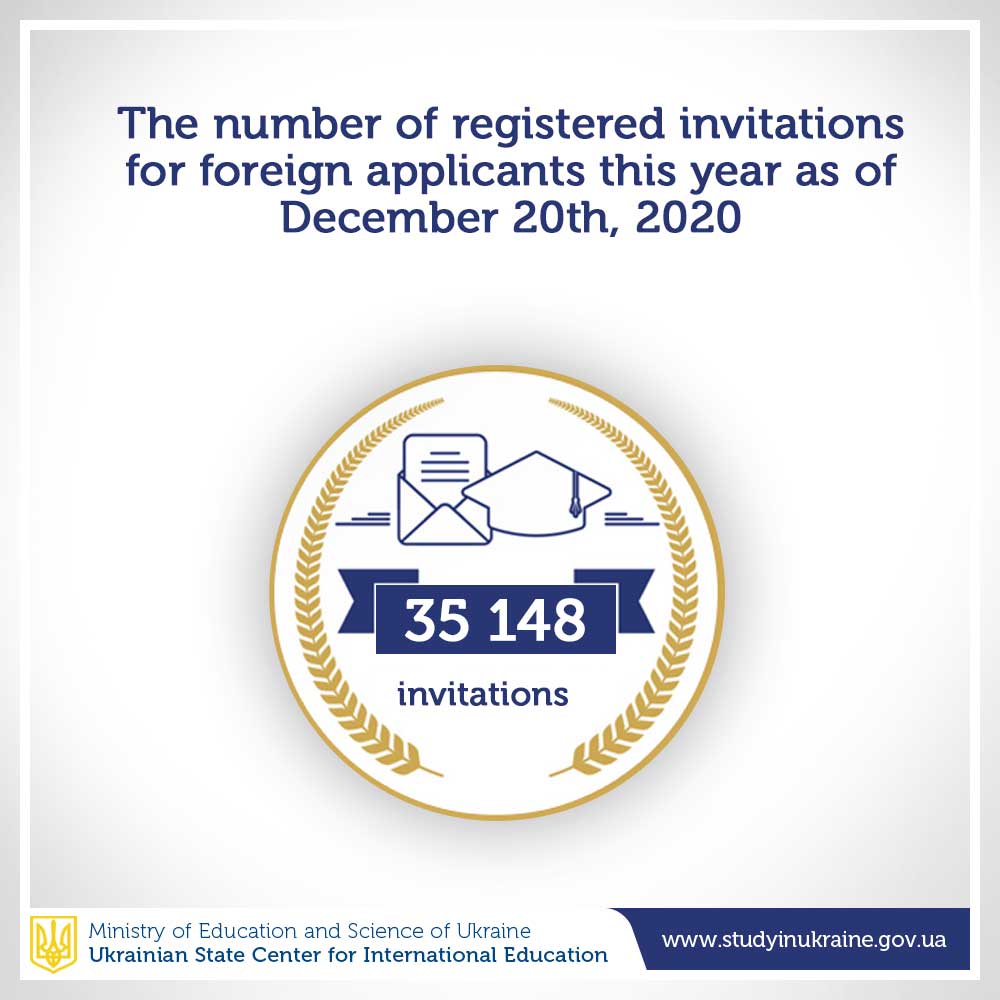 The leaders among the universities that registered the largest number of invitations as of December 20th, 2020 are:
1. V.N. Karazin Kharkiv National University 1667
2. Kharkiv National Medical University 1255
3. International European University 1194
4. Limited Liability Company "Dnipro Medical Institute of Traditional and Nontraditional Medicine" 1107
5. Kharkiv National University of Radio Electronics 1063
6. National Technical University "Kharkiv Polytechnic Institute" 831
7. Zaporizhzhia State Medical University 795
8. State Institution "Dnipropetrovsk Medical Academy of the Ministry of Health of Ukraine" 777
9. State Higher Education Institution "Uzhhorod National University" 723
10. Private Higher Education Establishment "Kyiv Medical University" 696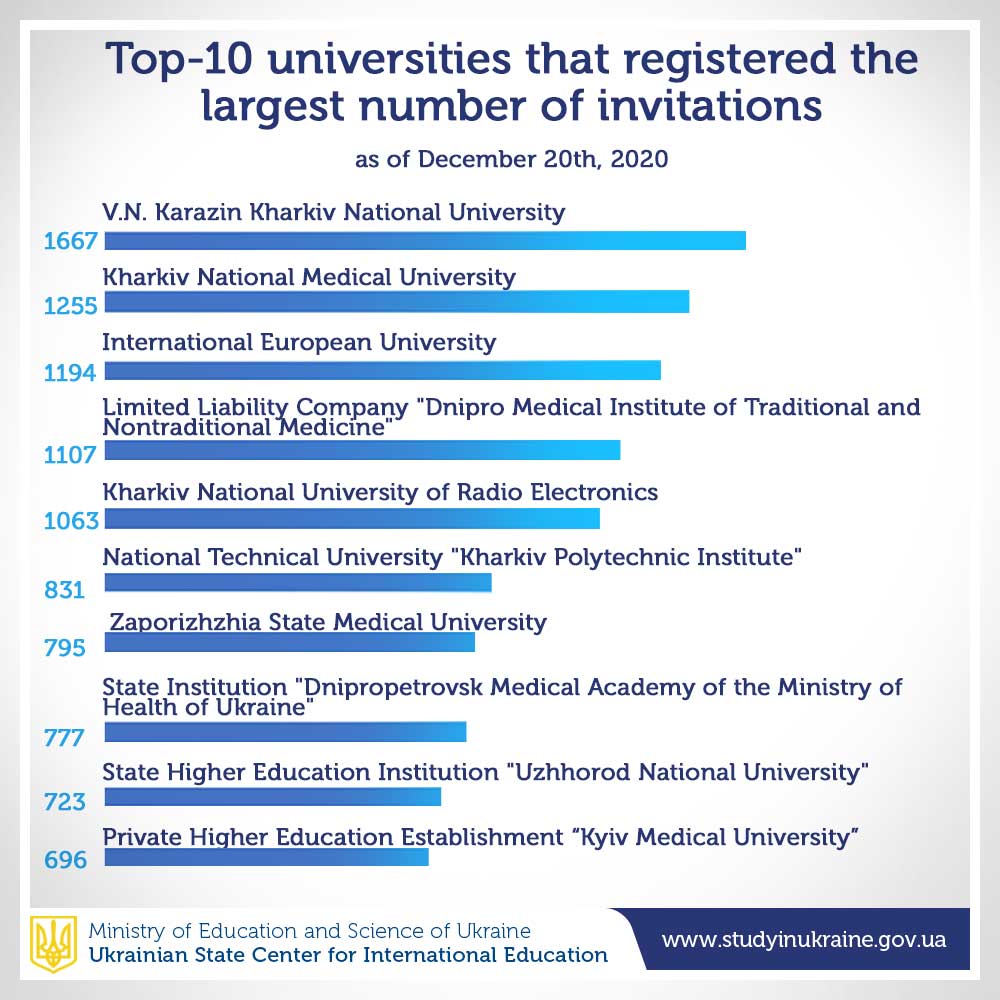 "Despite the challenges of this difficult year, we have more than 35,000 registered invitations for study. This means that all of us together – universities, «Study in Ukraine» – have made great efforts and done everything possible to make Ukrainian higher education interesting and accessible to foreign entrants this year " – summed up Olena Shapovalova.
We also remind that «Study in Ukraine» has presented the Center's Development Strategy for 2021-2025.