Dear colleagues!
We are glad to invite you to join

The First Ukrainian International
Education Forum
The Forum will be held on March 22-23, 2018 in the main building of Taras Shevchenko National University of Kyiv.

Volodymyrska street, 60, Kyiv city.
The Forum will be opened with the welcoming speech of the Minister of Education and Science of Ukraine Mrs. Lilia Hrynevych «The Reform of Higher Education in the context of internationalization».
Forum working directions:
Ukrainian higher education quality security: strategies and perspectives;
Worldwide experience of higher education internationalization;
Higher education internationalization in Ukraine: international students and academic exchange programs;
Academic integrity in the global context and as a national demand;
Working with international students: achievements and perspectives.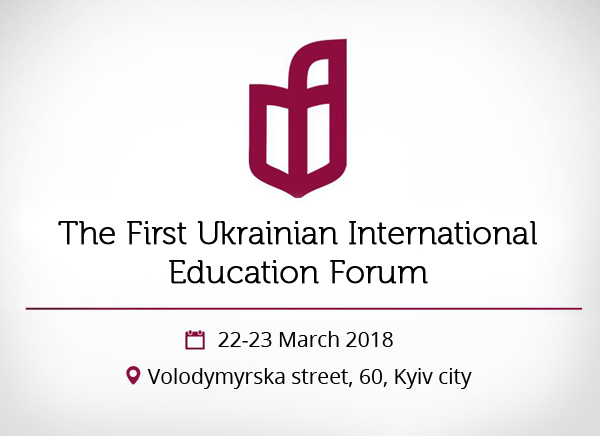 To join the Forum please do the following requirements not late, than March, 18, 2018:
1. Please, fill the Form and send it.
2. Pay the participation fee.
The fee is 1,800 UAH, including 20% VAT i.e. 300,00 UAH and being paid by bank transfer for the following payment references:
Recipient: Ukrainian State Center for International Education. (In Ukrainian – Державне підприємство «Український державний центр міжнародної освіти», скорочено – УДЦМО).
Organisation code (код ЄДРПОУ): 32304022.
Account Number (поточний рахунок): 26004457293 at АТ «RaiffeisenBankAval», Kyiv, MFI (МФО): 380805.
Payment reference: Payment for the International Education Forum (including name of institution and full name of participant) incl. 20% VAT i.e. 300 UAH.
We require copy of bank transfer receipts sent to us via email to conference@studyinukraine.gov.ua.
We kindly ask you to fill the applications form for the Forum participation and to pay the fee not later, than March 18, 2018 and send it to conference@studyinukraine.gov.ua, mentioned as a "Forum application form … (name or organization)."
Contacts:
03057, Ukraine, Kyiv, Oleksandra Dovzhenka str, 3.
Telephone: +380443590539
E-mail: conference@studyinukraine.gov.ua